When the local NY news station aired coverage of someone who waited in line since early Thanksgiving Day to be the first to get Black Friday discounts, I felt a painful sense of sadness for that person.
"What about his Thanksgiving?", I said to myself.
I concluded that this guy on TV who gave up Thanksgiving for a computer or phone or TV would probably have stayed on his phone during the family meal anyway, so why not get a great price for a new device? But was it worth it?
Did he ACTUALLY get a good Black Friday deal? Or was he better or staying on social media in the comfort of his own home during the family gathering?
What was your Black Friday like? Did you attempt to find mind-blowing deals that only come around one week a year?
My experience was as both a consumer and an online publisher contracted to promote extraordinary products related to health and technology.
After enduring an unbearable wait to park in Jersey Gardens, an outlet center near Newark Airport, we made our way into the mouth of the consumerist beast.
The mall was beyond stuffed with shoppers who waited in long lines just for a shot at the Black Friday dream.
My wife and I split up to cover more ground in a shorter period of time, as the energy emanating from the mall already started to drain us before we stepped foot in a store.
My toddler and I covered four men's stores, none of which required a line to get in, while my wife waited in line at one women's store not to be named Victoria. Shhh, it's a secret.
In truth, we couldn't find the deals we were hoping for and we aren't even the picky shoppers. We value basic brands and we are relatively easy to please.
We spotted a few decent items at 40% or 50% off, but we've seen them before on past trips to the outlets, both the deal (within 10%) AND the items. Nothing new, just the same old made-for-the-outlets trash.
It's one thing to arrive to find a lack of "great" deals. It's another to wait in line for 25 minutes and then find out that you just waited to take out the trash.
People in Jersey Gardens looked like zombie consumers wanting so badly to believe that they've been blessed with worthwhile deals.
According to a very, very informal poll of hardcore, online Black Friday shoppers who've had lots of experience with hunting for deals on this unique day, not a single person reported finding anything close to "a good deal."
The Truth About Black Friday
The sad truth about Black Friday is that Americans need it so badly as a source of hope and excitement.
The economy needs it as a way to promote massive consumer spending.
That's it. Otherwise, it's a scam if you're shopping in person.
Is Online Black Friday or Cyber Monday Any Better?
I received notification of hundreds of online deals from affiliate advertisers. I happened to cover websites that sell eyewear this year and there were some impressive deals, but not many. If 20% off of a pair of sunglasses floats your boat, then you're easy to please.
There were some pretty awesome deals here and there, but for the most part, the discounts were far from deep.
I will say that some of the prices are already impressive without Black Friday for things like glasses and supplements. You just have to play the game of either hunting for online coupons or catching the promotion.
If Apple comes up with a few superb deals on products we love, then maybe this company alone can change the overall tone and mood associated with Cyber Monday.
Overall, however, it seems like online stores are looking to dump their existing less-than-sexy inventory under the guise of Black Friday and Cyber Monday.
I will say that the one saving grace is that our three-year-old daughter had an absolute blast. She was super-pissed when we left.
Here she is on the ice cream truck ride…..
She thought Black Friday at the mall was amazing!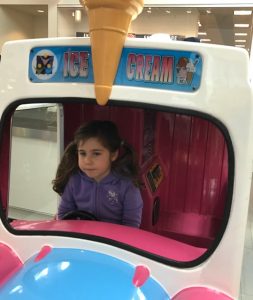 What was your experience?