If you're looking for a unique quote on happiness, you've come to the right place.
If you just want a quick injection of positive energy, there's nothing like a happiness quote to make that happen.
Welcome to my original list of short and powerful sayings, which come from my experience as a psychologist, a father, a husband and every other hat I wear.
After each quotation, you'll find a brief comment containing additional thoughts aimed at adding benefit and clarity to the message I am conveying.
A word of caution (and probably a quote from someone else): Don't chase happiness with these quotes because you'll fall right through it. Good feelings arrive when you focus on healthy thoughts and behaviors intended to make you happier.
Feel free to share sayings about happiness that you've come up with or famous ones that inspire you.
#1 The Definition of Happiness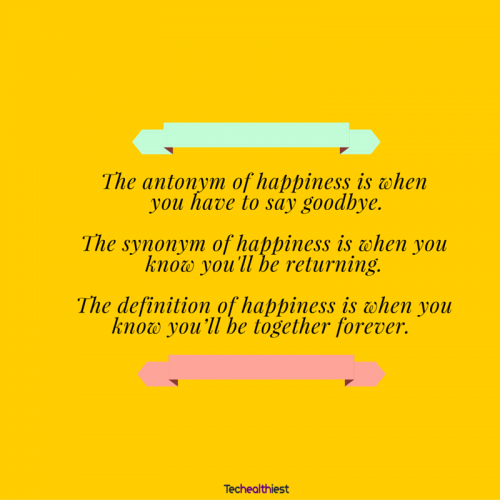 Download
Yes, when it's true love, there's no feeling in the world like knowing that the person you love more than life itself wants you forever. If absence makes your heart grow fonder, than saying goodbye only strengthens the relationship. How blissful it is to reunite with your soulmate after being apart for a period of time!
#2 The Opposite of Unhappiness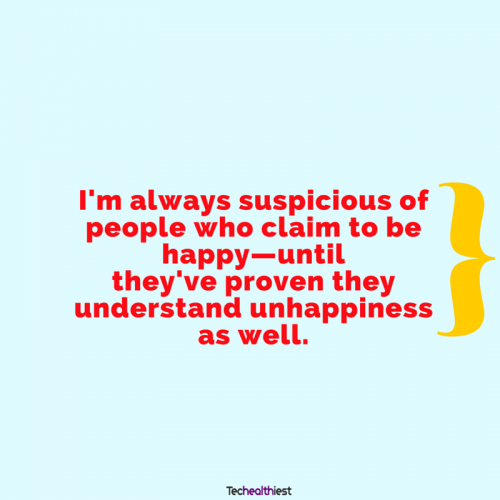 Download
Strive toward accepting that unhappiness is a part of life and you'll be more accepting of yourself and life's inevitable challenges. This one is important to remember because it reminds us how we are able to recognize our happy state — it's because we know its opposite.
#3 A Better Life of Striving for Non-Judgment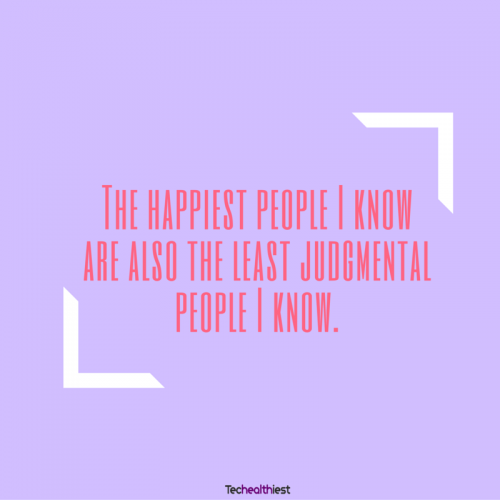 Download
This one's hard for many people to accept, but it's true. Happier people have the ability to separate themselves from judgment. Think of the most judgmental people you know. Chances are they're among the most depressed people you know. Work on recognizing when you judge yourself and others, and you'll find yourself writing your own life and happiness quotes. For help, start with one of my favorite posts on the habit of blaming others.
#4 Happiness and Time Move Faster on the Couch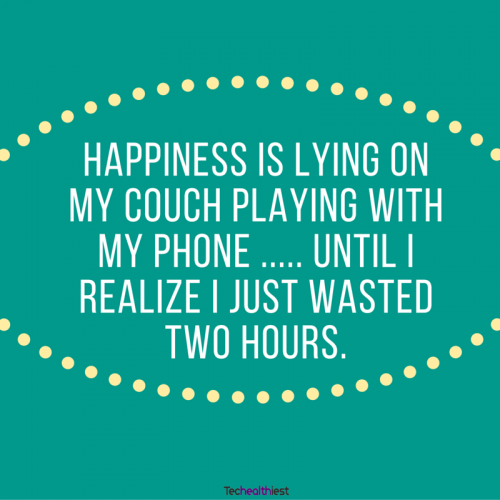 Download
Don't confuse pleasure/hedonism with happiness. We all love losing ourselves in our phone, it's too easy to lose track of time, and before you know it, you've lost the day because you couldn't stop watching random videos. A "happy day" probably doesn't involve tons of time wasted on your phone. Try setting a timer on your phone so that you have a reminder to tune back in to life.
#5 A Happier Life in Love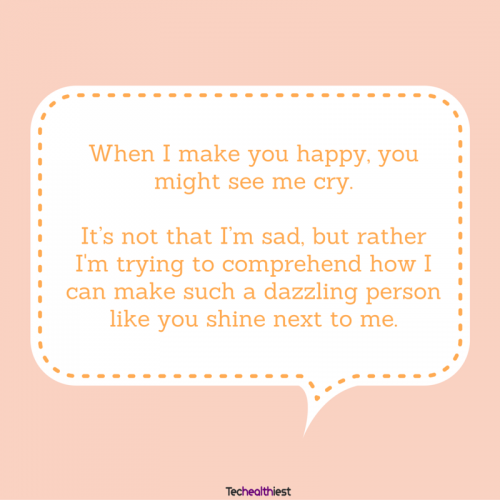 Download
You know you've found true love when you feel an enduring sense of awe toward your life partner — the kind of admiration that transcends resentments, unfulfilled childhood needs, and self-referential thinking. This is the key to a fulfilling relationship that lasts a lifetime.
#6 My Commitment Is My Happiness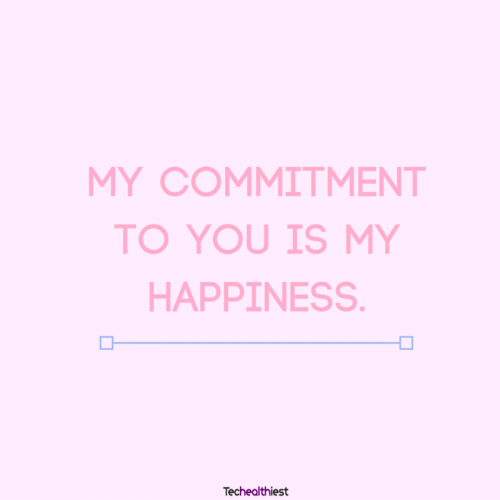 Download
When you value the importance of maintaining your commitment to the person you love, your relationship is more likely to be more fulfilling and long-lasting.
#7 Press Here for a Happy Life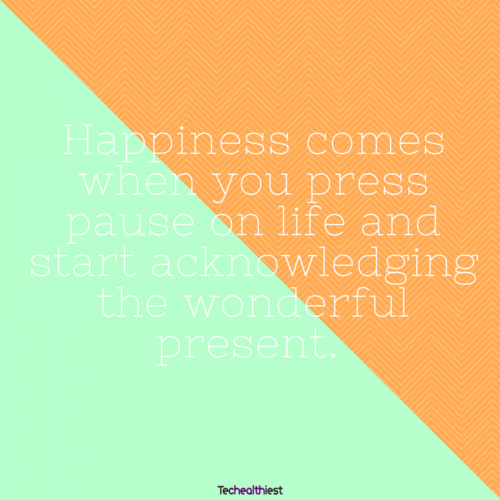 Download
Strive to live in the moment by taking a step back from positive experiences. Frame them in your mind to build enduring memories. Our screens constantly pull us out of the moment, so it takes a lot of inner strength to sustain the feeling of being in the present. This ability is one of the keys to being content with life.
#8 I'm Invested in a Happier You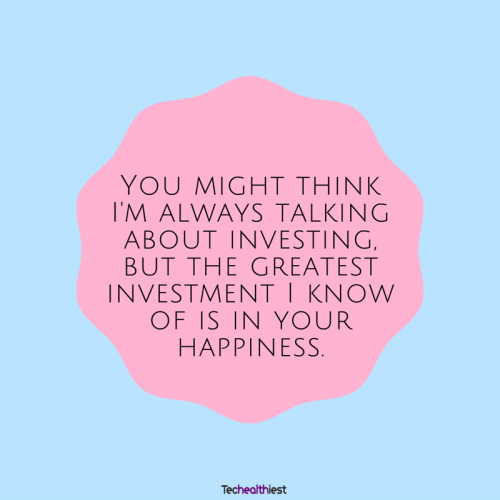 Download
Money is the killer of many relationships. Become obsessed with investing in the right place, your partner's happiness. It will yield returns beyond your wildest dreams.
#9 How to Rip a Hole in the Universe with Happiness
Download
This is a powerful concept about how your thoughts and feeling determine your reality. You can create a push-pull effect that brings you what you want in life. Sometimes you have to pay the happiness forward to receive it down the road. Embrace the magnetic nature of how you're feeling. The universe responds based on your thoughts and feelings, so whatever you're putting out there will come back to you.
#10 Happiness and Gratitude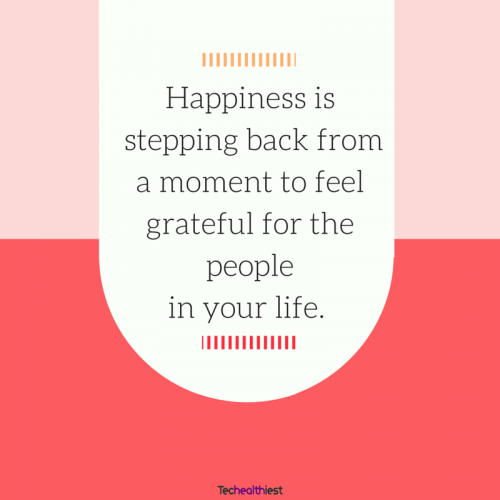 Download
Gratitude is an essential ingredient for a fulfilling life. Find moments within moments to press pause and appreciate the people who add value and meaning to your life. Without them, life would not be the same.
#11 Lost for Words to Describe Your Love and Happiness

Sometimes the happiness someone makes you feel is so powerful that words cannot do it justice. Communicate your love and happiness through your actions until you find the words. (A saying about happiness can be a temporary substitute.)
Please add happy thoughts or sayings below. There's nothing more powerful than a short quote that represents happiness to you AND brings out positive feelings in others. I'd love to hear from you.
More Quotes from Techealthiest:
Two Love Quotes That Contain the Key to Relationship Success