I don't do well with recipes.
In fact, I can't enjoy cooking unless I can spontaneously create something.
It's the one area in life where I'm an absolute gambler (the high and the rush included) and yes, my system makes it hard to recreate recipes, but I enjoy the reinvention process in my twisted way, especially when "accidents" result in better-than-the-original deliciousness.
My process usually consists of researching (thank you Google) the type of ingredients I'm inspired to use and making sure my crazy ideas will live at peace in one dish.
I'm no chef but I must have fun when I cook. Being an artist, I guess it will remain the only way for me.
Now, when it comes to baking, the stakes are high (AKA Are you crazy?!) Maybe that's why I prefer cooking over baking. You just can't mess with exact measurements and ingredients unless you're trained. Or…can you?
Here's the thing. What's the worst that could happen? My baked goods would taste like crap and I wasted ingredients. It's a small price to pay for the liberating fun I have in return, not to mention the gambling rush, not to mention the probably healthier component, which is enhancing faith and trust in myself. And so began my long personal journey with my go-to mini banana muffins…
I still have the original recipe symbolically crumpled up somewhere in the kitchen (never throwing that away) but at this point it's not even a distant cousin of my current version, which is
the healthiest, simplest, most superfoody, nutrient-dense baked good I have created
.
Safety first, I always practice on my family before anyone else. It's been a little tricky because my 2.5 year-old seemed to love all versions (the process began when she was 1), but my honest husband always saved the day.
Every batch I made was different, and unlike my cooking frenzy, this time I took down notes and modified accordingly. However, despite my utmost efforts to be an organized baker, now will be the first time I actually take the (or any) recipe out of my head and type it on my computer.
I am pleased to share with you the latest (though can't swear the final) version of my Healthiest Banana Mini Muffins, but before we proceed, keep in mind that the only sweetener used is that from fruit.
You will be pleasantly surprised, but I need to get it off my chest…right off the bat(ch).
My Kitchen Helpers
On another note, I have enjoyed working with my new devoted assistant in the last couple of months. We use our beloved
GuideCraft Kitchen Helper
, which is easily tucked away in the kitchen when not needed.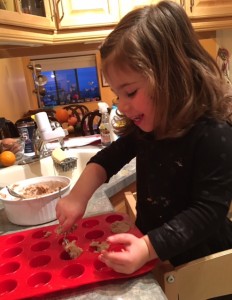 I also can't recommend enough the one item that changed how I feel about baking muffins, not to mention the clean-up (and with a toddler in the kitchen, every cleanup shortcut is the ultimate blessing).
My staple is this 
Silicone Mini Muffin Pan
. The mother of all nonsticks, it's also safest (food grade silicone), durable and extremely resistant to high temperatures (500 degrees Fahrenheit).
And once again, easiest cleanup. The muffins practically slide off.  It's like a little miracle.
One more staple, a side effect of my incessant need to superfoodify everything, is my coconut flour. Who knew that not all coconut flours are created equal? Not even the organic ones!
I have reviewed the nutritional facts on all of them and it turns out that 
Bob's Red Mill Organic High Fiber Coconut Flour
is the most nutrient-dense, if you will. For instance, it offers 10% of the recommended daily iron intake. None of the others offer any iron at all. And the way it smells when you open the bag also tells a story…
I try to use all organic ingredients in my baking, but the only organic almond flour on the market (correct me if I'm wrong. Please!) costs about $50 for about 8 oz. (Okay, I'm begging you to correct me.) Almond flour is not only a profound ally in cooking and baking (makes everything taste like buttah), it also serves as a loyal provider of vitamin E, magnesium and protein. That's when good ole' Bob is my very happy medium. His 
almond flour
isn't organic, but non-GMO is good enough for me.
You don't have to be a parent to enjoy baking, eating or feeding these mini-muffins, but it sure is a fun, educational activity with your children as the weather gets cold, not to mention it doesn't involve screens.
This particular recipe is easily "contained" and will not wreak havoc on your kitchen.
Children love these mini muffins, which can easily converted to a OvenArt Bakeware Silicone 12-Cup Muffin Pan, Red
 and isn't it nice to know they are an explosion of superfoods? A win-win.
You think I've said enough?…
Here it is:
The Healthiest (and Easiest) Superfood-Filled Banana Mini-Muffins
Prep time: 
Cook time: 
Total time: 
Yield: 24 mini muffins
INGREDIENTS
3 large ripe bananas
2 eggs
1/4 cup unsweetened applesauce
1 1/4 teaspoon vanilla extract
1 tablespoons unsweetened vanilla almond milk
1/2 cup almond flour
1/2 cup coconut flour
1/4 teaspoon ground nutmeg
1/2 teaspoon ground cinnamon (less if you're not a big fan)
1 1/2 teaspoon aluminum-free double acting baking powder
1 teaspoon baking soda
DIRECTIONS
Preheat oven to 375 degrees Fahrenheit.
In a medium mixing bowl, use a potato masher to mash the bananas. Add all wet ingredients and mix well after each one.
Slowly add the flour into the bowl and continue to mix well.
Add nutmeg, cinnamon, baking powder and baking soda and mix until batter is smooth.
Divide the batter between the 24 cups. Bake muffins for 25 minutes, or until a toothpick inserted into a muffin comes out clean.
Let muffins cool in pan on a wire rack for 10 minutes before removing them. Muffins can be kept in the fridge for 3 days, longer in the freezer.
Bon appetit!